FreeHoshino! #206

6.29 National Rally
670 People's Determination
Signature Campaign with a Million People to Release Hoshino
On June 29, 670 people gathered for the nationwide rally with 670 people at outdoor stage of Ueno Park for collecting signatures of a million people to release Hoshino.
Moderators were Ms. Nobuko Ohata ( Santama Coodinating Center of Labor Unions ) and Tetsuya Senda, (Free Hoshino of Tokushima). First, Akiko Hoshino read Fumiaki Hoshino's message that she tries to set Fumiaki free before he is seventy.
Next, Katsumi Kanayama, Secretariat of the Hoshino Defense Committee, made a keynote speech appealing "The time has come to regain Hoshino. Let us collect signatures of a million people.

Akiko Hoshino wrote a poem to get Fumiaki Hoshino back. Recently a song writer Megumi Maruo wrote the song "Solidarity".
Mugumi sang the songs played by musician Ryuichi Fukuyama. At the end of the rally, Yoko Aoyagi raised the issues that need to be corrected. Then all protestors sang "Solidarity" together and the participants swore to spread the signature-collection campaign a million people.

International solidarity message for Comrade
Korean Confederation of Trade Unions Seoul Division Kang Yong Jung
Abe administration needs to free the comrade Fumiaki Hoshino immediately!
Cracking down on workers and people of all the world of imperialism and capitalism regime is happening regardless of times. Especially workers of South Korea and Japan suffered the biggest damages by the US imperialism.
Workers and people in Korea are brave enough to go against the US imperialism and capitalism regime, and we are struggling in order to create the world in which workers can be the hero. There are many comrades who were framed like Hoshino, and many were already executed.
After the tenacious struggling for 40 years by workers and people, some false accusations became in public. We are making the history of the new workers.
I would like to tell the comrade of Fumiaki Hoshino passionately that Korean activists also struggle for Free Hoshino. Toujen (struggle)!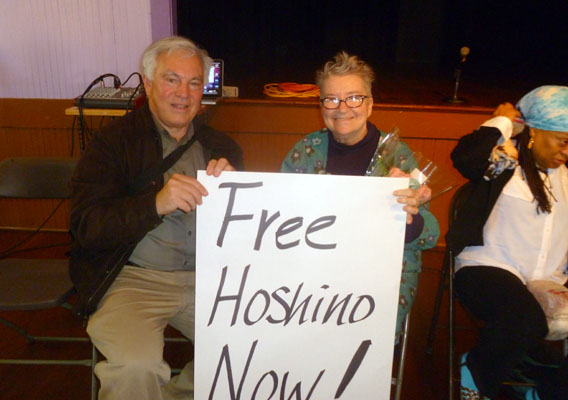 The Free Hoshino songs
Participants Sang "Solidarity" in Chorus
The musicians Ms. Megumi Maruo and Mr. Ryuichi Fukuyama sang three songs.
First they sang "Solidarity". Ms. Megumi Maruo said, "Your, Every ones' co-operation is definitely necessary to save Hoshino through this song, so please memorize the lyrics and the melody today."
Fukuyama who made the song "Release Hoshino" said that he composed the song in about five minutes. "I could imagine the mind of the poet Mrs. Hoshino, what she thought of Mr. Hoshino, and her concerns to people and the society. Then I could write the melody smoothly. I hope people sing with their arms crossing together."
The third song was "Walk the Uphill" by Maruo. She commented, "I wish I could sing Akiko's mind", and started to sing very gently.
At the end, all the participants sang "Solidarity" in chorus under the direction of Maruo .

Determination of Fighting Together Strike Disenchants Anger
Shinichi Tsujikawa Representative of Japan Coodinating Center of Labor Unions
This photo was given to me by someone named Tetchan, an elementary school child and one of my protestor friends.
Tomorrow Doro-Mito will go on strike to protest against the construction of Tatsuta station of JR Jyoban-line.
The people who suffered from the Great East Japan Earthquake and live in temporary housing in Naraha-town in Iwaki ?city have no freedom. They are afraid of being recognized as the victims of the disaster, nor do they claim that they want to go back to their original places.
During the time of the world war, we had awful experiences that you have to spy on the neighbors where no one could protest against the war.
That is the reality in Fukushima. Every one, a war has already begun.


Tokushima Visitation Diary

The 28 Years of "FumiAkiko" Distributed Sensation

Akiko Hoshino

This was the first time visiting Fumiaki in four consecutive days from June 3 to 6. I was on a tight schedule that I was back from Akita last night and I met him at 3 p.m. instead of in the morning.
He looked refreshed because he was just after taking bath.
I showed him a photo of roses in A4 size that Mr. Yamakawa prepared. I also showed him a cloth with drawings in which many comments were written from supporters at the exhibition in Akita city. A sunflower was painted on the center of the cloth and the comments were written with various colored crayon. I spread it on the acrylic glass which separated us in the room. Fumiaki stared at the cloth with joy.

On the first day, I talked mainly about the exhibition and meeting in Ushiku, Ibaragi and the Iwaki meeting organized by Doro-Mito.
I told Fumiaki that I was excited by the success of the Akita exhibition. Unusually, I talked a lot this time.
I told him that the Ushiku exhibition was produced by a person who visited one of the Hoshino related activities and offered his cooperation.
One mother from the audience who has a handicapped child came to the meeting and said "I was encouraged to live thanks to Mr. and Mrs. Hoshino." I told Fumiaki about her gratitude. Fumiaki looked happy, saying, "My source of living is living with Akiko and fighting together with supports. It is very good that our way of living offers people mental and spiritual sustenance." He also said that he would like to write a letter to the mother.

The Akita exhibition was produced by Painter Masaharu Ashino, Doll Artist Jyunko Ashino and Mr. and Mrs. Kodama who fight against JNR. This was the first exhibition in Akita, and had about a hundred audiences in three days. The meeting for publicity of Free Hoshino activity was held on June 1, and thirty people participated. I gave a speech at the meeting, and some audiences were moving in tears. Those people did not know about Hoshino until the day before. A professor of my seminar class from Akita University was one of the audiences. He told me that my speech reminded him to try to be his own critic. He said he has never been touched deep like this in recent years. He was also moved by our deep love and that we live positively. I told Fumiaki about all these stories.
I reported Fumiaki about Masaharu Ashino's comment, "I didn't know the reality of this painting before I saw it in person. I get an urge to touch the cheeks. My hat goes off to him!"
I did report about a meeting in Iwaki we had on May 31. Six hundred people participated. This meeting was effective and encouraged the people who were still living in temporary housing after the Great East Japan Earthquake.

June 5 was the third day of the visiting. Mr. Kougen Aoyagi, the former sponsor of Fumiaki was with me that day. Mr. Aoyagi was sick, so Shigeo Ito accompanied with him, who is Fumiaki's best friend since their university, but he was turned away at the gate.
Mr. Aoyagi talked to Fumiaki with smiling. "We won at Sanrizuka, Anti-nuclear, and JNR thanks to you who became Buddh Amida from a Buddhist saint behind us. "
Fumiaki was listening to Mr. Aoyagi happily, and said, "It is wonderful that we are alive to create a society in which you can live humanly."
The four consecutive days of the visitation made us spiritually relaxed.