FreeHoshino! #198



Big Celebration Party for "Love and Revolution" Publication Full of Hope to Regain Hoshino


The memoirs of Fumiaki and Akiko Hoshino, "Love and Revolution" was published in September.
On October 11, celebration party for the publication was held in the Seiryou-kaikan hall during two paintings of Fumiaki Hoshino were exhibited at the hall.
Seventy one people participated.
Hiromi Tomura, co-leader of the committee of Free Hoshino and the moderator for the gathering, stated that the publication party is held in Nagata-cho, the heart of the nation.
Bouquets were handed to Akiko Hoshino and Representative of the publisher.
He reported how the publication of "Love and Revolution" was struggling in a short period of time. Also he said that telephone order continues even now.
Akiko Hoshino stated how Fumiaki was pleased at the demo around the prison, and he
was very glad that she brought the bouquet the participants gave him the day after the demo.
She continued, "Some people wonder why he paints such bright pictures while he is life in jail." The reason is that he paints bright relationships among people in the society which everybody lives as human beings and right relationships between man and nature.
Our struggle for thirty nine years has been always together with the youth workers who are fighting under the neo-liberal attack.
At the end of the subject, publishing the book, Akiko read her poem "Kissing" which was written about her kissing with Fumiaki through the acrylic grass.
After that people raised a toast to support Fumiaki to Akiko, and everybody was excited
Motoshige Kim, professor of Learning about Discovering All Evidence Committee, and Mikiko Kyakuno, Representative of Say No! Wrongful Conviction: Citizen's Council congratulated on the publication the book.
Masakatsu Kawasaki, An Executive Committee Member of Doro Chiba, Shinichi Tsujikawa who from K-center, Asako Miyamoto who is a member of Sanrizuka Struggling , Ikuma Saito who is an activist of Zengakuren, and Mikio Amata who is General Secretary of Kaku kyodo also conveyed their congratulations with their positive statements.

Expand Good Reputation of the Book

"Love and Revolution"

This book will give the fighting labors like a chairman of a labor union who is fighting for labors courageously said, " I was moved to tears".
We will expand good reputation of "Love and Revolution", and make the next Hoshino National Gathering an excellent one!



The First Fumiaki Exhibition in Iwate Prefecture from Nov. 29 through Dec. 1
Help Friend in Jail beyond Principles and Policies
Written by Kosuke Okada, Emeritus Professor of Iwate Universit





The first Fumiaki Hoshino exhibition in Iwate prefecture were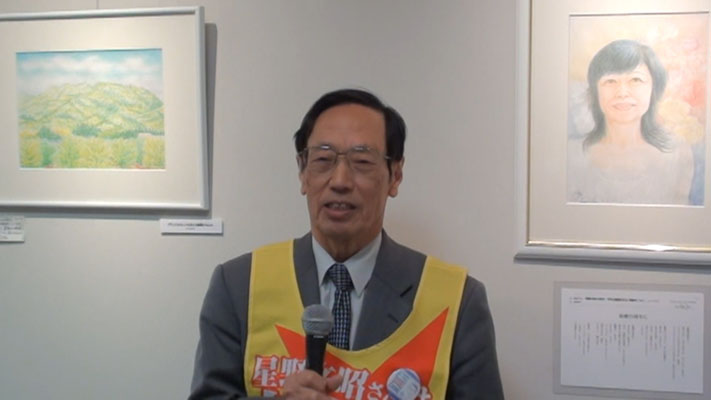 held in Morioka from Nov. 29 through Dec. 1. Akiko Hoshino's talk began from 6:00 PM on Nov. 29, and after that we watched DVD "Fumiaki Hoshino in Jail for 36 Years."



Founded Fumiaki Hoshino Art Exhibition Executive Committee in Iwate

The exhibition is conducted by Fumiaki Hoshino Art Exhibition Executive Committee in Iwate. The members are organized by ten people mainly Christians in Iwate.
The purpose was that we want many people in East North in Tohoku region to know about Fumiaki Hoshino's situation. East North in Tohoku includes Aomori, Akita, and Iwate.


Spread the flyer in East North in Tohoku Region

The flyer "For the Society the Human Beings Can Live as Human Beings" with the painting named "The Path I walk with Akiko" is put in thanks to the help by Mrs. Youko Aoyagi, member of the Free Hoshino in Miyagi.
The flyer was put out fifteen hundreds, and they were provided for 58 protestant Christian churches in Aomori, Akita, and Iwate.
One of the phrases in the prefatory note by Osamu Taira, Preacher, was encouraging. He said, "Innocent people mustn't be brought to justice, and rather the government authority should be sat in judgment on their wrong judgment.
"The title of the book "Love and Revolution" is great. Not only love of Akiko Hoshino to Fumiaki but it is also a book of plenty of love by Fumiaki for all people in the world and of course for his late parents, and love from the world people to Fumiaki.
Fumiaki is rather a happier person in some way.
All we can do is pray Hoshino's sooner release."



Tokushima Visitation

Akiko Hoshino



The pictures sending warmth to us
October 23 was the first day of this visitation. The weather was comfortable.
I was in a dress I bought with Fumiaki's premium money.
"You look nice in it" Fumiaki said, "I am thinking of drawing you in this dress with the bouquet the people who participated the Tokushima prison demonstration brought for me"
I asked "How is your cold?"
I knew through his letter that he has been suffering by a cold.
The prison officers do not prescribe medicine unless the fever becomes over 37 degree.
Fumiaki answers, "My body temperature has been 38.6 degrees, but it has gone down to 37 degrees after taking prescribed drug", Fumiaki said and smiled. "It was for the heat of this summer and fall. I am still suffering for rhinitis and feeling of listlessness."

The FumiAkiko Calendar was supposed to be reached to Fumiaki on the day. The prison once said that a calendar was one of dangerous items putting in prisons, and I used to stick each edge of sheets of paper together with glue to disguise calendar, but they peeled it away and did not hand it to Fumiaki. But this time I used spray glue, which is stronger than the paste type, and according to Fumiaki, the detention officer confessed that he was outdone in patience.

I reported him about Sanrizuka gathering that was held in a heavy rain. Takao Ichihigashi who is an activist of the Sanrizuka, came to the gathering in such a bad weather. He was a person who was hard to find by his friends and activists, but showed up here for Fumiaki.
I told Fumiaki that Mr. Ichihigashi told me that he wants to see Fumiaki.

I showed him the next year's Hoshino Calendar through the acrylic grass between us.
A prison guard stopped me to show him the numbers of each month and the letters of the poets in the calendar, for they were not reviewed.
While I asked the guard "Is it permitted if it's a painting?" Fumiaki has seen all the six sheets. The front one is a painting Fumiaki selected among his recent work.
He was glad with the calendar saying "This calendar is well done as well as the book we published."

Meeting with Brothers for the First Time in Years
On October 24, I went to the prison with one of Fumiaki's younger brothers, Syuuzou.
Syuuzou said, "I will perform my play KIMUJINA in Okayama prefecture. I portrayed KIMUJINA as Fumiaki, and the story is that KIMUJINA meets dead AINU woodcrafter Bikky Sunazawa you had respected for".
I added "Syuuzou performed his play RYUUSA (Quicksand). It had a good reputation.
Fumiaki asked my impression about the play, and I answered "I thought it has a deep nihilism".
Syuuzou explained "It was my first play in fifteen years. I wrote about the situation of the devastated area and communication of a man and a woman. This was put up in a review in the play magazine テアトロ (theatreux)".
Fumiaki finally commented after we finished talking, "You are doing your own unique job, and it is important that you do things good for the people around you". He concluded this meeting like an older brother does.
The brothers meeting of the first day in many years was over with pressing their palms on the acrylic grass from each side.

On October 25, on the last day of the visiting Fumiaki, I went alone.
We talked about a recent painting of Fumiaki titled "A life is Born?Along with Akiko's Footstep." Fumiaki, from the prison, gave it to me yesterday.
"This painting is excellent!" I said "I feel warmth from this"
"I am glad you like it" He said, "This is from a photo of a mother and a child I found in the magazine Days Japan. I omitted the tube in the child's nose from the photo. I took a scene in a work of Marc Chagall and drew you in the scenes of you holding a baby of the rabbit, walking with your dog, Chiro, and holding someone as you are a grown up. Usually I paint a week before our meeting, but this time I started a month before, so I feel this one is much better than usual"
We talked about Syuuzou. Fumiaki said, "I feel at ease to know he has his identity with doing what he likes. He used to be jealous of Akiko because he felt I'm taken away by you, but now he seems to overcome that"
I told him that Syuuzou and I could shook hands yesterday when we said goodbye at last.
Our last topic was that Free Hoshino Committee is going to appeal as the name of Hoshino at the Labors Gathering on November 3 at the first time. After he gave us a short comment about the event, our meeting ended.